Mountain Jam One-Way Transport - NYC to Hunter, 6/2 Saturday 9:30AM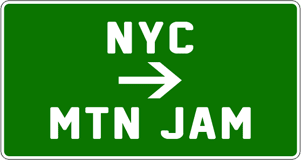 Tickets are non-refundable and cannot be transferred from one date/time to another. Please book your selection carefully!
We reserve the right to cancel a bus trip if a certain minimum capacity is not met. Cancellations will be announced with at least 48 hours' notice, and a full refund will be provided.
Pickup & Return Schedule
| Pick Up | Union Square | Times Square |
| --- | --- | --- |
| Thursday, 5/31 | 3:00 PM | 3:15 PM |
| Friday, 6/1 | 9:30 AM | 9:45 AM |
| Friday, 6/1 | 6:00 PM | 6:15 PM |
| Saturday, 6/2 | 9:30 AM | 9:45 AM |
| Sunday, 6/3 | 9:30 AM | 9:45 AM |
| Return | | Hunter Mountain |
| Sunday, 6/3 (late Sat night) | | 1:00 AM |
| Sunday, 6/3 | | 11:00 PM |
| Monday, 6/4 | | 12:30 PM |